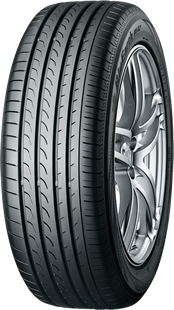 A BluEarth grand touring tyre tuned for CUVs & MPVs.
For further product information, please contact our YCN Dealer.
Available sizes
Inch
Section %
Size
Load Index
Speed Symbol
17
55
235/55R17
103
W
60
215/60R17
96
H
225/60R17
99
H
65
235/65R17
108
V
16
60
205/60R16
92
H
215/60R16
95
H
205/60R16
92
H
65
205/65R16
95
H
Anti-wobble and low noise
Exclusively developed asymmetric pattern.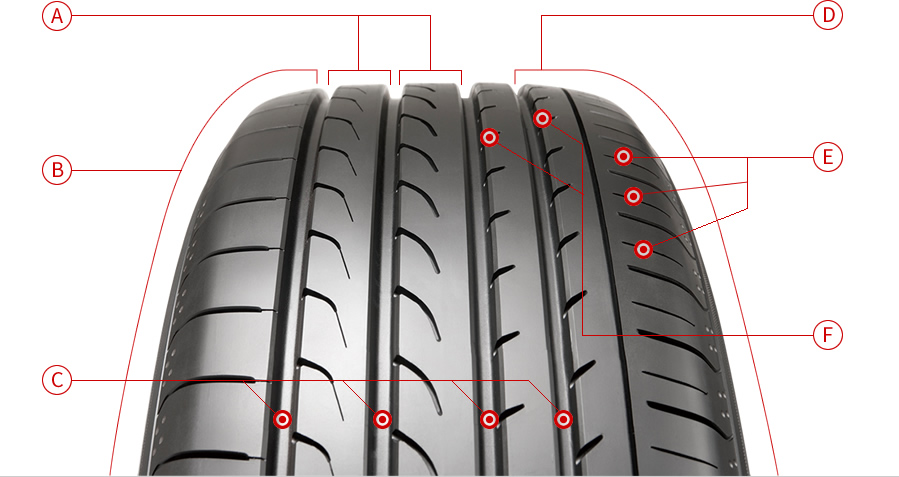 ATwin Power Ribs

■ Provides highly stable handling
■ Diagonally cut grooves improve water-drainage performance
BPower Inside Shoulder

■ Provides highly stable handling
■ Reduces uneven wear
CFour Straight Grooves

■ Improve straight-line driving stability
■ Excellent hydroplaning resistance
DGrand Silent Shoulder

■ Designed with noise-suppressing grooves
■ Reduces uneven wear and wobbling
E3D Sipes

■ Two types of differently shaped sipes disperse tyre noise
■ Reduces uneven tread wear
FSilent Edge Grooves

■ Grooves cut into the inner sides of the ribs reduce the pass by noise
Dimple and smooth shoulder design

Anti-uneven wear
Mound Profile
[Our standard tyres]

pressure is applied dispropor-tionately to both sides of the ribs, which leads to uneven wear.
[BluEarth RV-02]

evenly distributed contact pressure helps prevent uneven wear.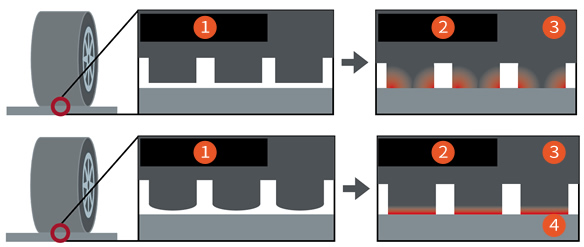 1Before contact
2During contact
3Treads
4Road surface
Excellent wet performance
Nano-blend rubber designed specially for BluEarth RV-02 tyres (simulated image showing molecular structure)
Double Silica

Two types of silica are used: silica to enhance braking performance on wet surfaces, and silica to improve fuel efficiency.
Blend Polymer

A multiple-polymer blend is used in pursuit of improved braking on wet surfaces, lower fuel consumption and increased wear resistance.